What are your Dreams? Making an animated short on the PS4
It may not be the most common conception of Aardman, but we've always been interested in new technologies.
Whether that's building motion control systems to move a diffuser made from a pint glass in sync with stop motion animation, the VR system we built on Early Man so Nick (Park) could line up shots in the CG stadium, or the compute shader based painterly system for 11-11: Memories Retold, using new tech to create beautiful things that have that handmade warmth is what we do.
So, when we saw Media Molecule's Dreams, and how you can sculpt in a 3D space with paint strokes using PS4 motion controllers (and MUCH more), light bulbs started glowing around the studio. A chance meeting at FMX when I was doing a talk after Kareem Ettouney (Media Molecule art director), led to a visit to their awesome studio, and finding out we shared a lot of the same ethos as companies.
Gem Abdeen, MM's Outreach Manager, said "We have been big fans of Aardman for a long time and when we had the chance to meet some of the team (pre-Covid!) we knew it was a start of a great relationship. Seeing what such a uniquely creative animation studio like Aardman can do with Dreams is so inspiring, and we're excited to see how we can continue to collaborate."
So what did we do together? I'll pass over to my learned colleague Will Studd…
*************************************
We got together with Michael, Ed and Gemma at Media Molecule over a zoom chat and kicked around some fun animated Dreams ideas. We thought about games vs straight animation, but we wanted to make something musical, characters that people could pick up and play, so we came up with the idea of a 2-player interactive puppet performance – essentially a little music based toy with fun characters for people to bring to life.
To start off I created a bunch of initial designs in Dreams. Our first thought was to design a character that could be in segments, like a concertina. We wanted a body shape that could be very mobile and dynamic. Each section of the main character (in this case burger, cheese, tomatoes etc.) is linked with bolts in a stack to create a bendy, kind of snake like, setup.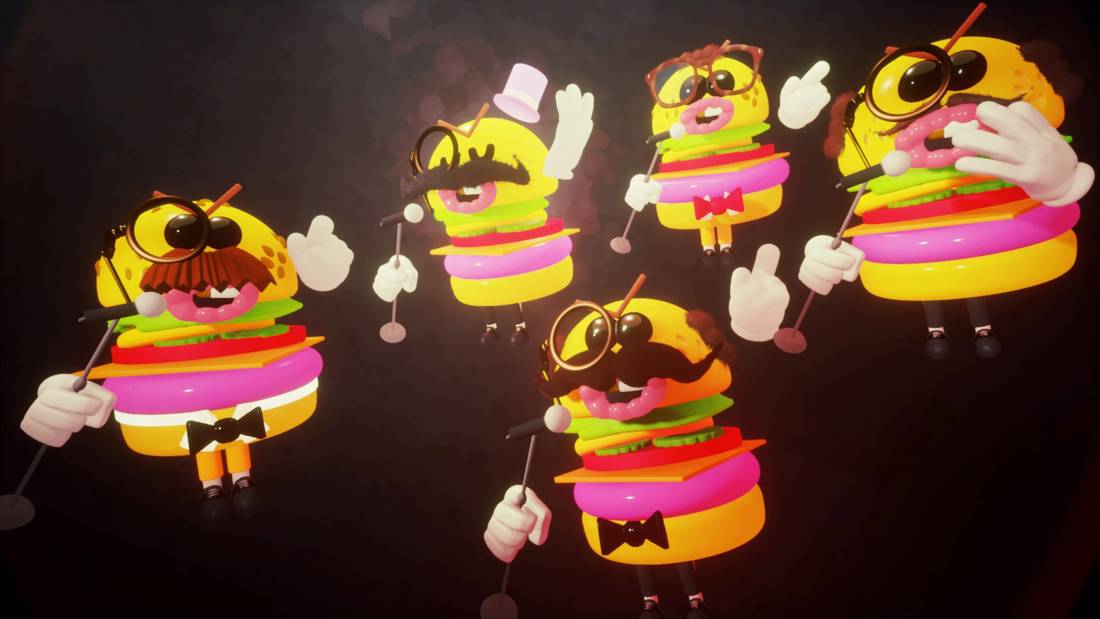 We included lots of dynamic attributes that take advantage of Dreams' physics engine. Stuff that makes the puppet feel tactile and physical, like the hairy moustache, hair style and monocle. These assets shake, ruffle and jangle like the real thing, giving Burgerotti lots of lovely follow through with overlapping animation.
We also wanted to create a classic Aardman loop mouth that you could trigger live, with audio. Michael Pang created a really clever set up that reacts to sound, with random 'm' and 'v' mouth shapes on the closing action to mix it up and make feel more natural. Ed created the perfect spooky opera music using Dreams' composing tools.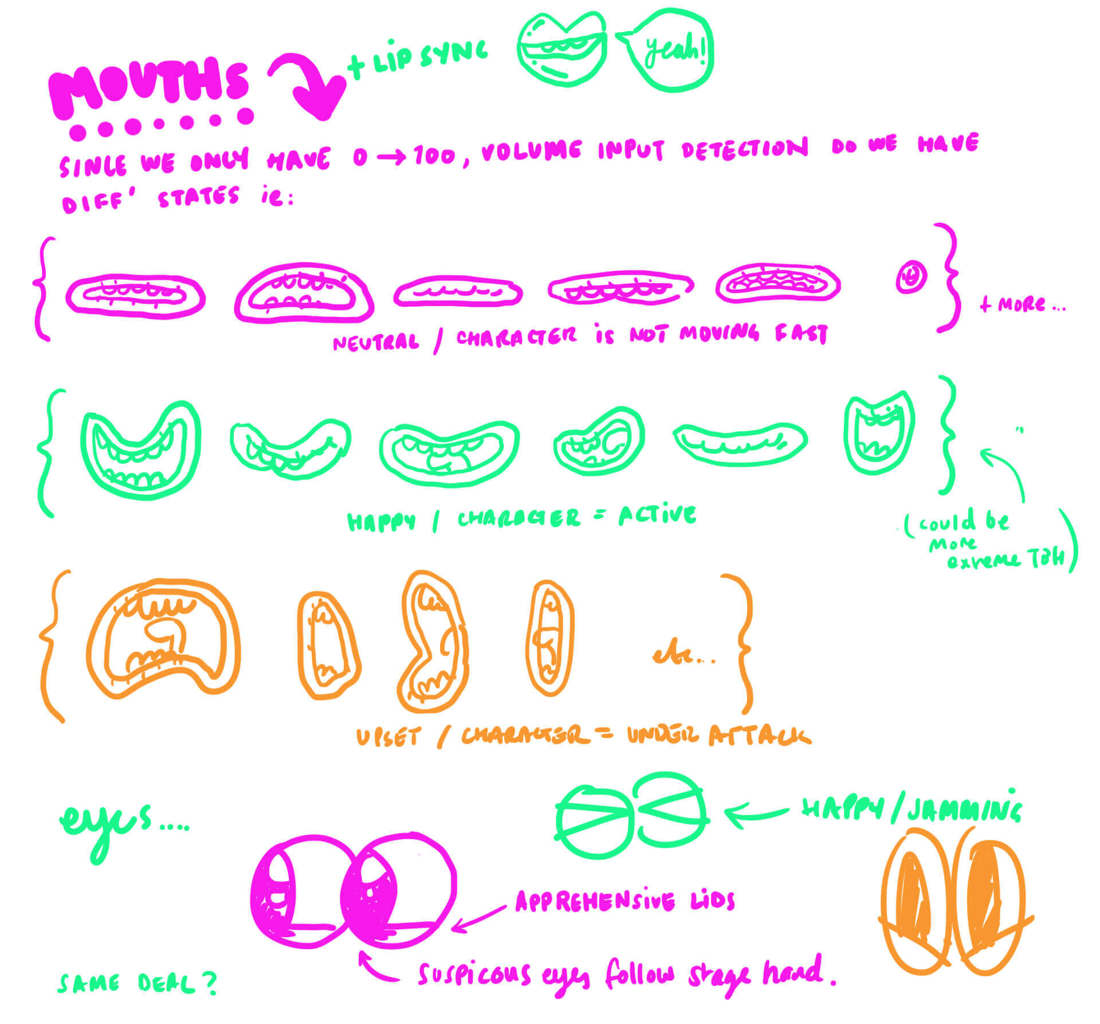 Michael also created the awesome stage hand. I love how his eyes are movable, using the thumb sticks of the controller and that the fingers have a slight wobble as he moves.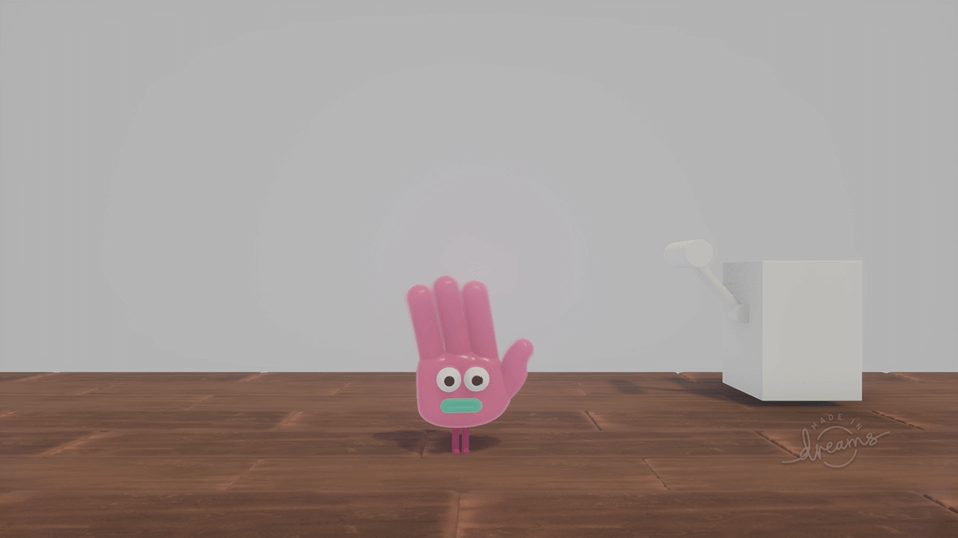 After modelling we used Dream's simple logic tools to rig a bunch of levers and buttons for the hand to trigger that affect the audio. For example, if you lower the lights, it causes the burger to catch fire, and also mixes through to a different singing track that features lots of painful sounding 'ooohs' and 'aaahs'. This bit was really fun to play with as they could be linked to a wide array of audio effects – I think people will have fun remixing them.
Overall, I think Dreams makes the creative process so enjoyable. It's great knowing you can get awesome results so quickly, without learning loads of UI and caching loads of previews.
*************************************
And so without further ado, Aardman and Media Molecule present: Burgerotti and Stage Hand