Published 14th April 2022
Production Spotlight: Maraike Krämer
In April 2021 Maraike Krämer was preparing her final project for the Aardman Academy's Industry Training: Stop Motion 1 course from her home in Germany. Fast-forward a year and she's relocated to Bristol to take on the role of Junior Assistant Animator on Aardman's upcoming feature film Chicken Run: Dawn of the Nugget. 
We caught up with Maraike to find out how she turned her passion for stop motion animation into a career.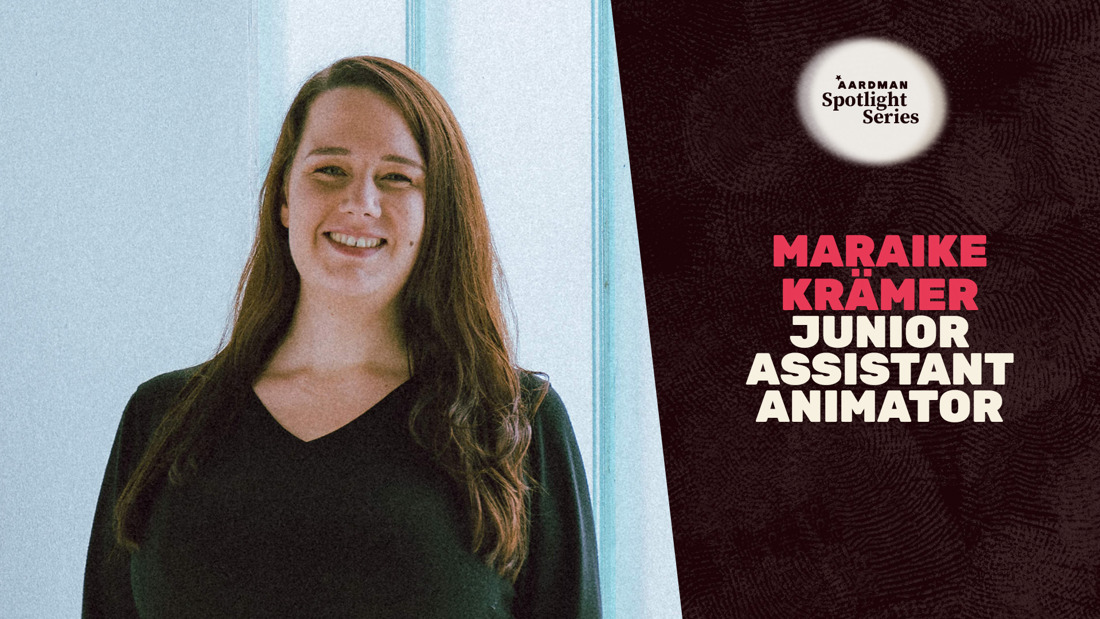 When did you first discover your passion for animation?
I first discovered my passion for animation at university. I studied Design in Germany, which covered a wide selection of classes, from illustration to graphic design, film and animation, and many more. I've always secretly loved the idea of working in the film industry and have always been creative, but I grew up in a small village where creative jobs weren't really encouraged, so I decided to study business administration since I was expected to get a "real and secure job". It took me only two weeks in my first semester to realize that this was not the right path for me and that I'd be absolutely miserable if I had to do this for the rest of my life. I kept studying for a while since I was too afraid to quit and didn't really know what else to do. I just knew that this wasn't it.
I happened to come across an event that my university holds every semester for their design students. All of the students who decided to major in film and animation got to show their film projects in the cinema every semester. It's an event open to the public, so I decided to go without having any expectations. However, seeing their work changed everything and I couldn't believe that these students get to spend their time making music videos and short films instead of learning about bookkeeping. I was so in awe of their work and decided right then and there that I wanted to be part of it and do something that actually gives me joy and excites me. It was a 1.5 year journey from the moment I decided to start applying for a creative study programme until I actually got accepted, as I had no prior experience and had to teach myself a lot about design, before I even had the slightest chance of getting accepted.
Once I got in, I attended a voluntary course about the basics of After Effects. I'd never heard of that software before, but was curious about what it was for. I ended up moving simple shapes from left to right by keyframing, which is obviously the absolute most basic thing you could animate, but I was immediately hooked. I was so proud of my squares and circles moving on the screen that I felt the urge to dive deeper into animation, and so it began. I tried many different kinds of animation. Motion Graphics was the first thing I started to do, then character animations in After Effects, a bunch of VFX, tried frame-by-frame animation, pixelation, and rotoscopy. I loved the idea of stop motion but never really gave it a shot until I was in my fourth semester.
Finally, I found a couple of fellow students who were also interested in making stop motion shorts, and we decided to create one together. We then made our very first stop motion short film, Theodor, and it was an amazing experience. Since we were only four team members, everyone wore a bunch of different hats and got to do whatever they were most interested in, and luckily, we complemented each other perfectly with our different interests, so that every field, like producing, model making, animating, prop/set building, editing, sound-design, etc., got covered by one of us. I animated a lot for this film, and even though it was a year full of ups and downs, joy and frustration, I knew I would do it all over again since stop motion character animation is my favourite thing ever. Having a lifeless puppet in your hand and getting to give it character, emotions, movement and seeing it come to life is so rewarding. I also love it because it's (in my opinion) the most difficult form of animation, as you don't have a chance to tweak imperfections in post or by moving keyframes or erasing and re-drawing limbs if you're not happy with the animation. Instead, you have to think of every movement before and after every frame you take. It's a very demanding job and always a challenge, so it never gets boring and keeps you on your toes.
Who are your industry icons?
Oh, there are so many!
I think Sergio Pablos is an absolutely amazing animator, director, and screenwriter. He's brought us Klaus (amongst MANY other things), which is an animated, Christmassy masterpiece! 
I'm also obsessed with Tomm Moore's work at Cartoon Saloon. Wolfwalkers is one of my absolute favourite films. A stunning work of art, which made me cry a couple of times just because of how beautiful it is. 
Chris Columbus is also on my list, as I'm a huge Potterhead and his films just make me happy!
Since I'm a lover of musical theatre, I have to mention Lin Manuel Miranda. This man is a genius!
I could do this for hours and cover more animators, composers, illustrators, and filmmakers that I adore, but I have the feeling that would be a little bit too much. Half of the Aardman team is on that list as well, and the fact that I get to work with my icons is unbelievable.
Tell us about your role at Aardman:
I'm an Assistant Animator and am currently working on Chicken Run: Dawn of the Nugget and absolutely loving it! This is my first ever job at Aardman, and it is an absolute dream come true for me. I moved to the UK after successfully completing a two-month traineeship at Aardman and being offered a job afterwards. I immediately dropped my whole life in Germany, packed my things and started the new chapter of my life with one suitcase in Bristol.
My job is to sculpt the beaks and mouths out of Plasticine for all the characters. Every character has a specific number of different mouth shapes that the animators use for lip syncing. Making sure to keep the plasticine clean, smooth and evenly shaped is a big part of the process. Everyone I work with is so genuinely nice, patient, and helpful. I feel very welcomed here and will hopefully stay for a very long time. Part of the Assistant Animators' job is also to animate a shot here and there, and that's what I'm looking forward to the most.
How has the Aardman Academy helped progress your animation career?
The Aardman Academy is the very reason I got to make my dream of working at Aardman come true. I took the Industry Training: Stop Motion 1 course at the beginning of 2021, which opened the doors to the industry for me. I was part of the very first cohort, which was the most amazing experience on so many levels. I got to meet a bunch of Aardman employees, made friends with fellow students on the course, got feedback on my work from animators who have been in the industry for 20+ years, pushed myself to improve my animation and model making skills, and just had a safe space to learn, create, fail, succeed, ask questions, and share a passion with other animation nerds. I was in absolute heaven.
I was able to upgrade my show reel with the work I'd done during the course and got close to some employees who encouraged me to apply for the traineeship that followed in the winter. I never would have gotten this job if it weren't for the traineeship, and I never would've gotten it if I hadn't taken the Stop Motion 1 course at the Aardman Academy. So much happened in 2021, and if someone had told me a year ago that I would be working at Aardman now, I never would've believed them.
How would you describe the Aardman Academy community?
The community of my cohort at the Stop Motion 1 course was my absolute highlight, which I never expected. Before the course, I was mainly excited about being taught by Aardman animators, whom I've been admiring for years, and getting to learn a bunch about character animation, which was great, of course. But it was the community of my fellow students, along with Mark Hewis, Katie Daniels, and Stuart Messinger, who ran the course and were our daily go-to people if we had questions, concerns, ideas, or just wanted to have a chat, that ended up being the best part for me.
Even though the course was online and we were spread around the globe, it felt like we were in a room together. We constantly exchanged our work on the community page that has been created just for us students and encouraged each other, got to vent whenever we felt overwhelmed and gave and received feedback and tips on literally everything around stop motion. It was a very safe space where nobody had to be afraid of showing their animation of the week, even though they were not perfect yet. Nobody ever looked down on someone if their work wasn't at the point where they wanted it to be, but instead we just encouraged each other and helped out where we could.
It's almost been a year now since we graduated from the course, and I'm still in daily contact with more than half of the people on it. It's like we're still on the course together, but instead of having the same task we're animating, everyone has their own animation project that they are working on. We're in constant exchange of ideas and feedback, and we also talk on a personal level and share our thoughts and feelings, which, (again) is just a very nice, cosy, and safe space to do so. We're also planning on doing an international collaboration animation project this year. I am very excited about that!
What are your plans for the future?
I have so many plans and ideas for things I want to do. Obviously, I would love to become an animator at Aardman, and being an assistant is the first step. So I'm hopefully getting there step by step. But I also absolutely love teaching and I have been working in childcare my entire life. I would really love the opportunity to get involved with the Aardman Academy and teach or mentor students and/or children at schools.
I'm also very much interested in making more of my own films, and my absolute dream is to make an animated musical. Robin Robin is a big inspiration for me and I would've loved to have been part of this film as it is everything I love combined: Christmas, stop motion animation, musicals and children. Since I've been a freelance illustrator for years, another dream of mine is to illustrate a children's book. Like I said, I have many plans and ideas on my list ;)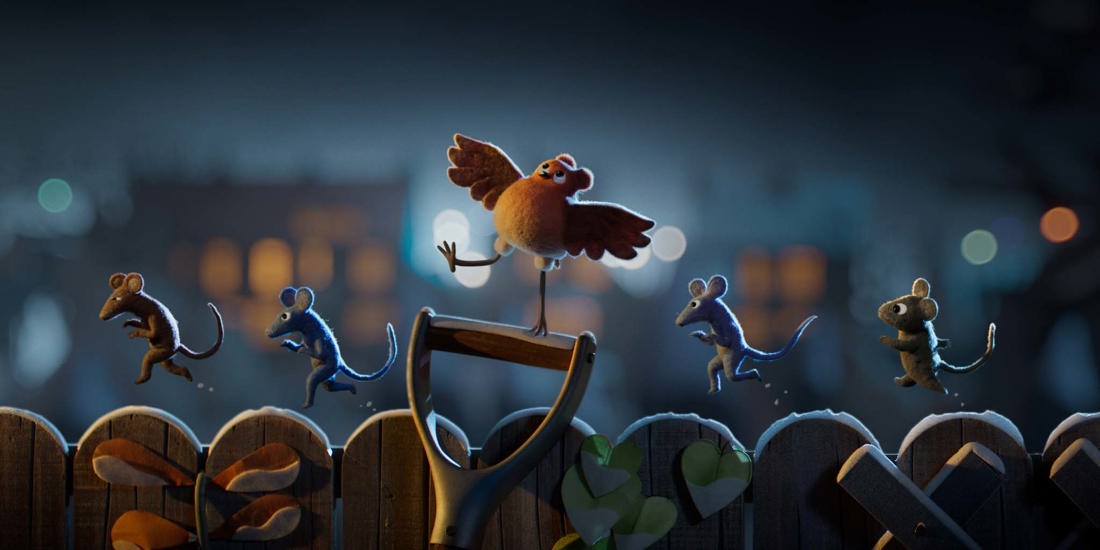 Who is your favourite Aardman character and why?
Shaun the Sheep has a very special place in my heart as it's something I used to watch with my dad, and the only animated program that has always fascinated him. He's so enthusiastic about stop motion in particular, and being able to share a common interest that we found through Shaun is something that I'll always cherish and appreciate.
Follow Maraike on Instagram.
Find out more about the Aardman Academy's Industry Training courses here.