CONCEPT
There are many projects that come through the door at Aardman that are unique, but few really grab you by the heart. When I had the opportunity to pitch on this project, I knew that is was going to be a very special one – not only because of the band being Coldplay, and it being such an honour to have the opportunity to direct a video for them, but also because their track 'Daddy' spoke to me in a way that stories and visual images began to dance in front of me. When this happens, you know you are on to something very special indeed. I tend to get drawn to emotional stories and this was certainly one I wanted to tell.
For the pitch, we were given free hands to decide how and what story we wanted to tell. Without knowing the meaning behind the lyrics, I dived into a story about a girl lost alone at sea.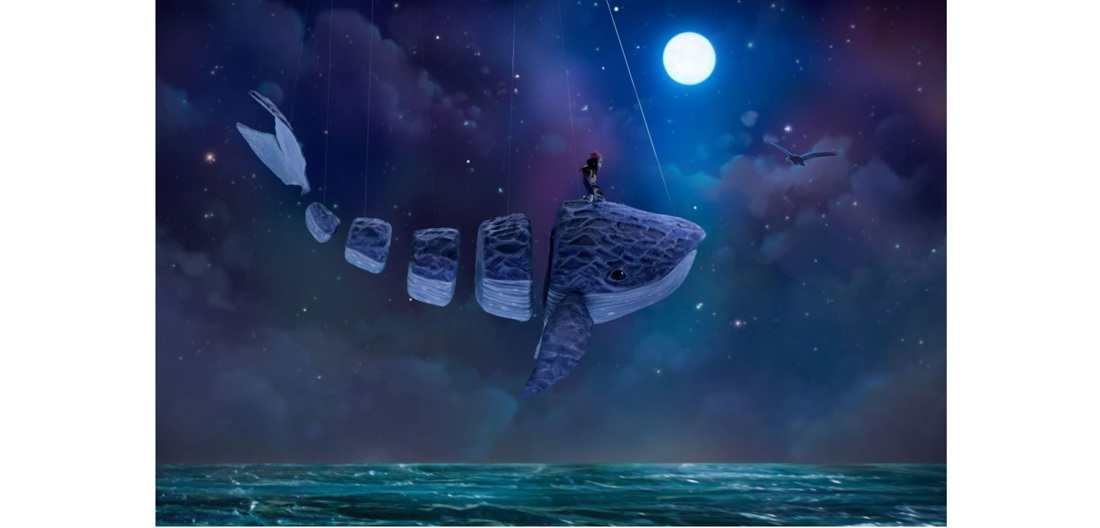 AN ATMOSPHERIC JOURNEY THROUGH A GIRL'S FRAGMENTED MEMORY ABOUT HER FATHER.
In the film, we see a girl lost as sea, alone in a small rowing boat, rowing towards the unknown. The turbulent sea is echoing glimpses of her past with her dad, and the sea and skyscape become an emotive canvas that projects her memories. I wanted to capture the nature of dreams and memories – a sense of fragmented surrealness, while keeping the relationship simple with the girl, the sea, and the characters she meets along the way.
It is an emotional journey, and I guess you could read it in many ways. The sea becomes a metaphor for what stands between the girl and her father – a threat, a sense of danger of the unknown and what she has lost.
This film is about a girl not only longing for her father, but also about a girl that has been forced to seek new shores.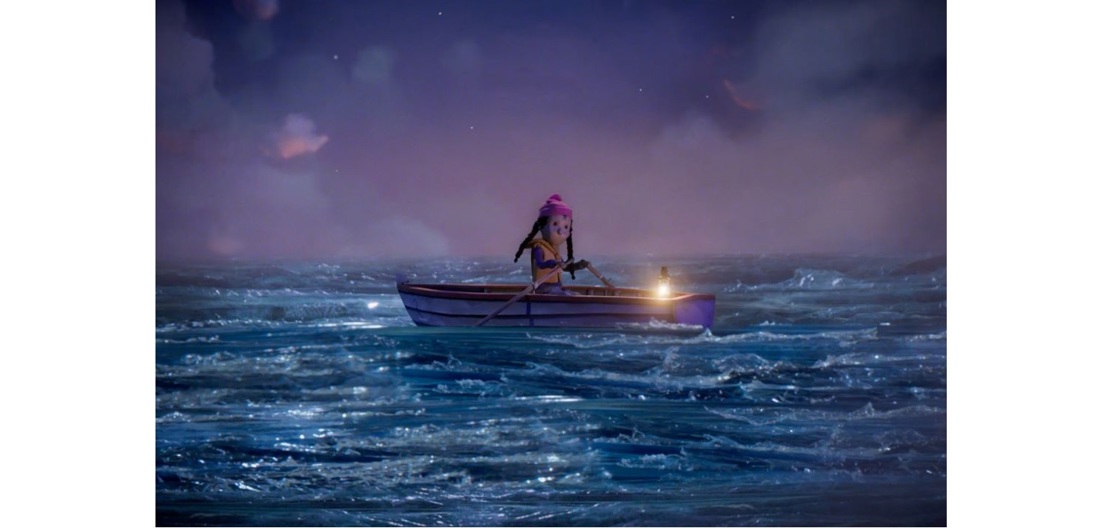 PROCESS
I was keen to use a mixed media approach for the film. A montage using mainly live action puppetry together with digitally painted sets and 2D animations to create a tapestry of styles that symbolises the girl's memories of her dad.
For the treatment I had quite a clear idea of how I wanted the story to unfold. The track starts with just the sound of a beat – almost like a heartbeat or waves hitting the side of a boat – which sparked my idea of using the sea as a backdrop.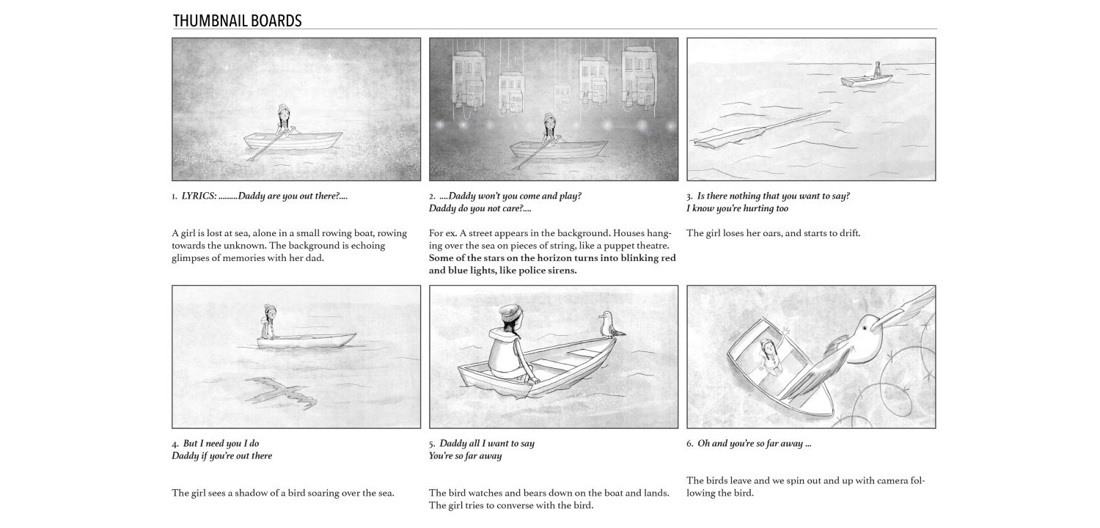 What was important to me was to capture the handmade feel of the puppets, and the simplicity in the compositions and sets in the sea, above and underneath the surface. I wanted to create a dreamlike canvas where emotions could be easily captured.
Once we had the go ahead for the project, I started to draw out the characters in different poses and angles. The main character stayed pretty much the same as in my original treatment, with just a few tweaks to what she was wearing, whereas the raven went through some further development.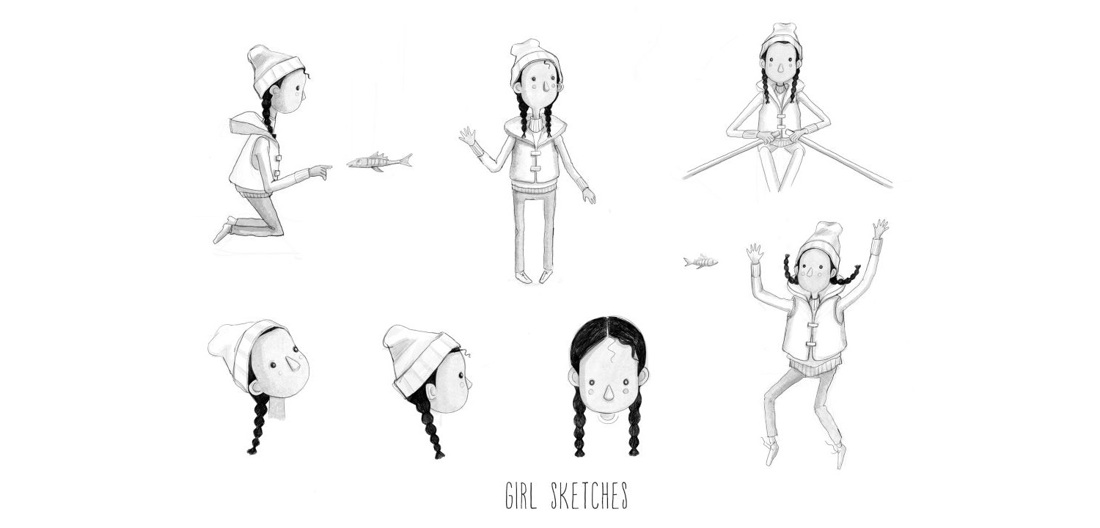 At the same time, we started to develop the concept art and overall feel for the project. And then we moved on to creating a storyboard and animatic, wonderfully drawn by Henry St Leger.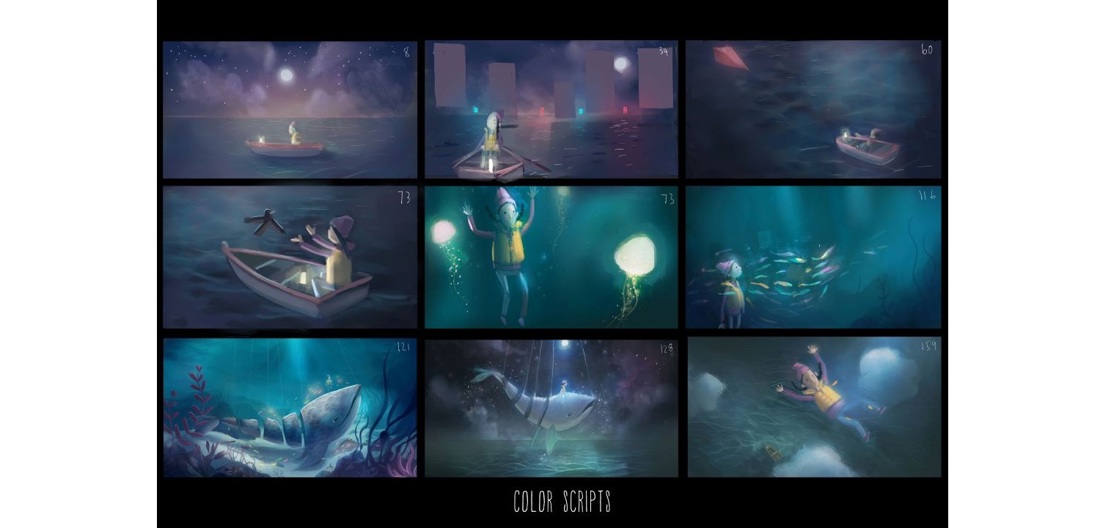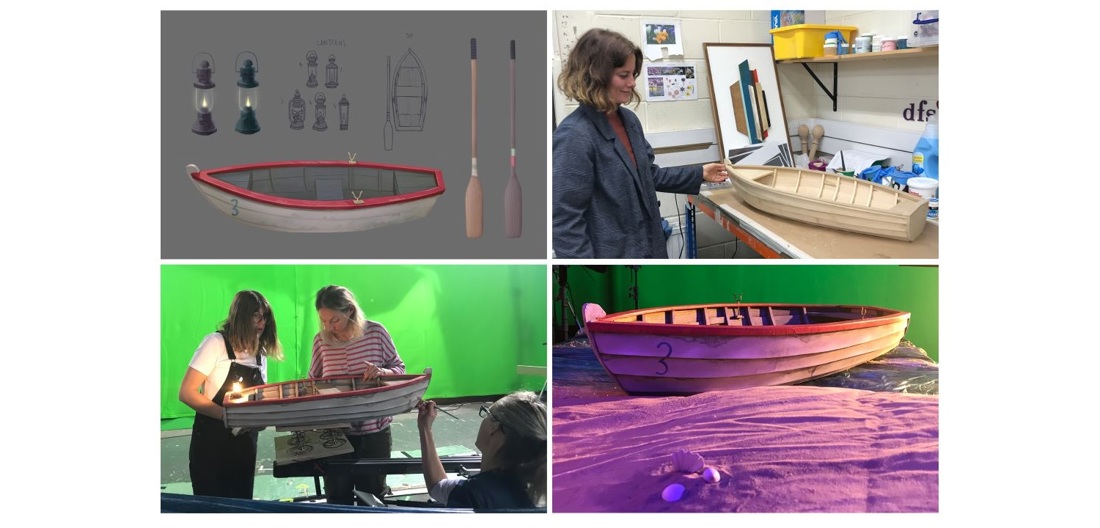 PUPPETS
PUPPET DESIGN
We teamed up with the great puppeteers at Brunskill & Grimes, (Andy Brunskill, Jim Grimes and Katie Williams) who made and puppeteered the puppets.
I loved to see how the puppets translated from my drawings to the physical puppets. It's always a magical process when you get to see your characters in 3 dimensions. They become just that much more real. It's an intricate process where every detail had to be thought of, from what material the girl's hair was made of, to the stitched hem of her jeans and how worn her life jacket should be to the painted texture of her face. We were under immense pressure in terms of schedule, so the puppets needed to be built very quickly, only to be finished just minutes before the camera started rolling. Quite a challenge, but we got there in the end!
GIRL
I wanted the girl puppet to have an airiness to her appearance – a slight melancholy look without being too sad or flat. Her face was always going be without expressions – like most styles of theatre puppets – so the emotions has to lie solely in her body language. I also decided not to give her a mouth, again to emphasise the expressive emotional tone of the film rather than facial expressions and words from the girl.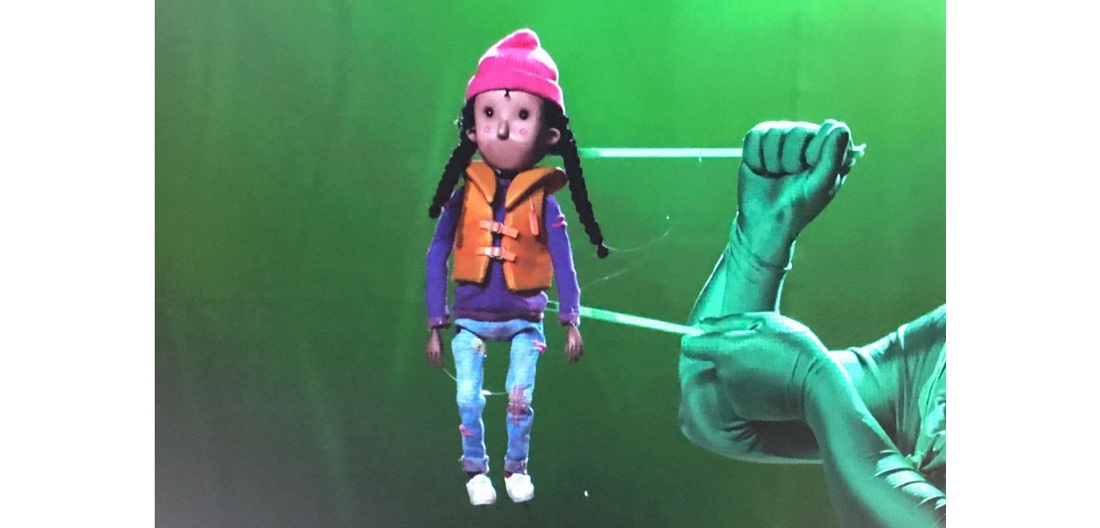 WHALE
I wanted to reference puppet theatre in the design of the whale to give it a more stylised look, so we segmented it to allow for fluid motion. I also wanted to carry on a handmade feel and visually wanted it to look like it would have been carved out of wood, creating a surface that was full of colour and texture.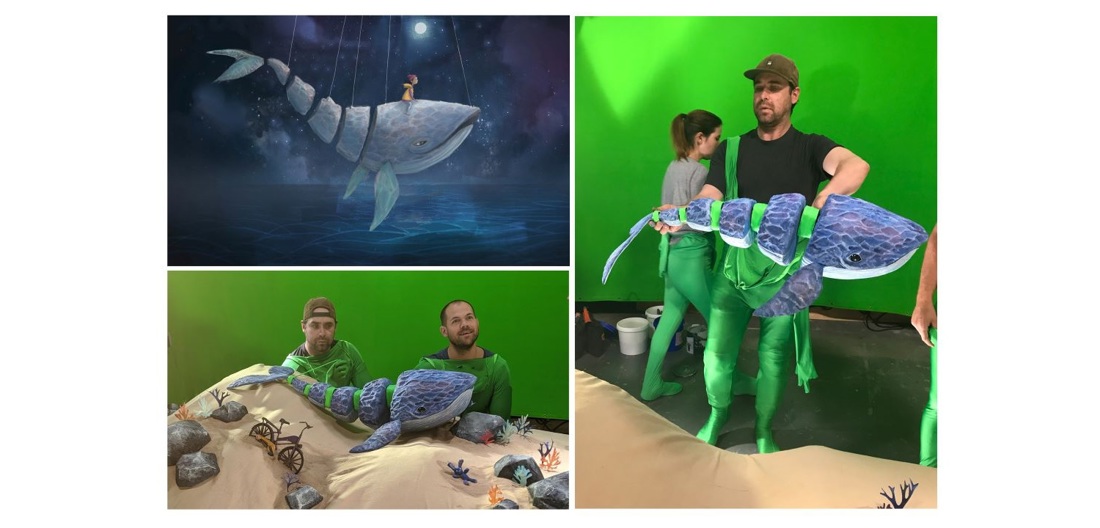 PROP MAKING
I was incredibly impressed by the set designers here at Aardman – Helen Javes, Rachel Bennett and Sophie Marsh. Carpenter Tom Sewell who made the gorgeous rowing boat that you just wanted to curl up and live in, and the houses that are all wonky and detailed in just the right places. The sea bed reflected Marc's designs beautifully and allowed us to add in some memorabilia of the girl to reflect a few glimpses of her past, from her bike, to a ship she read about in her favourite book.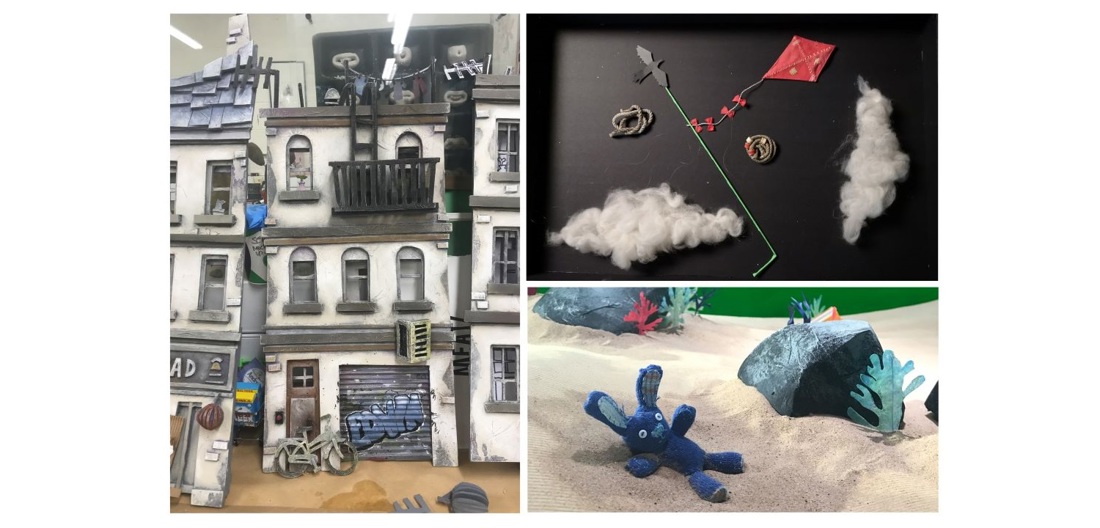 OCEAN
The biggest challenge was always going to be the ocean. It's such a vast, ever moving set that is alive and a character in itself. I had a vision that I wanted the sea to be made out of cellophane and have a hand-crafted feel to it. Being inspired by Michel Gondry's approach to sets in his animations, especially in The Science of Sleep, I really wanted to create something tactile and hand made that still looked like the ocean.
We ended up layering painted cling film with strips of clear cling film on top, then hanged it over a square 3 x 3 m frame. We had people holding each corner, tugging and pulling gently to create waves. And boom… we had a sea!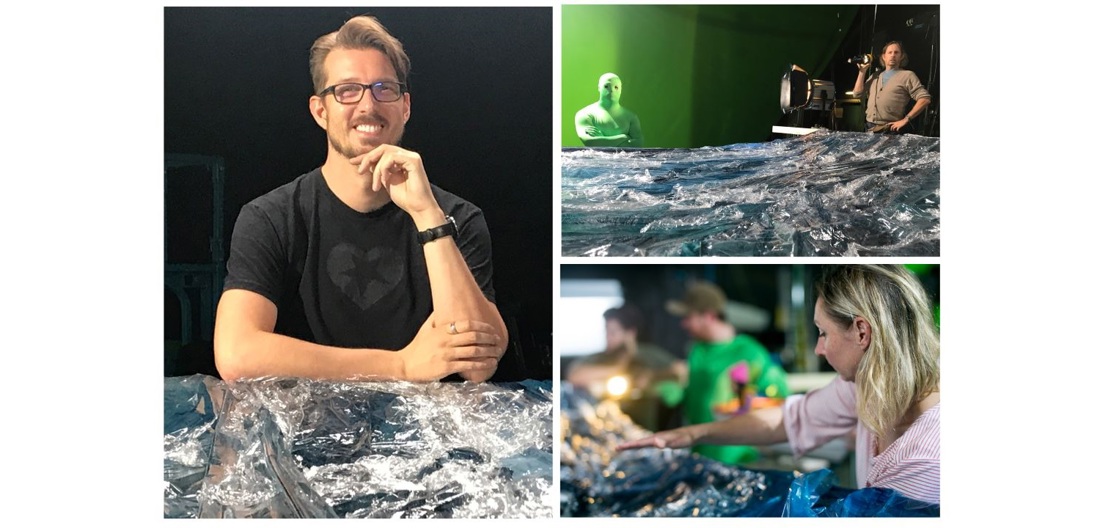 LIVE ACTION SHOOT

LIGHTING & ATMOSPHERE
It was a happy coincidence that Coldplay's album Everyday life is a double album titled Sunrise and Sunset, as our film starts at dusk and finishes at dawn – an atmospheric journey through time, darkness and light.
Without a whole set, the challenge was to create lighting, water effects and atmosphere for a set that was going to be added in afterwards. We were only lighting the characters on a green screen and different elements of the set separately.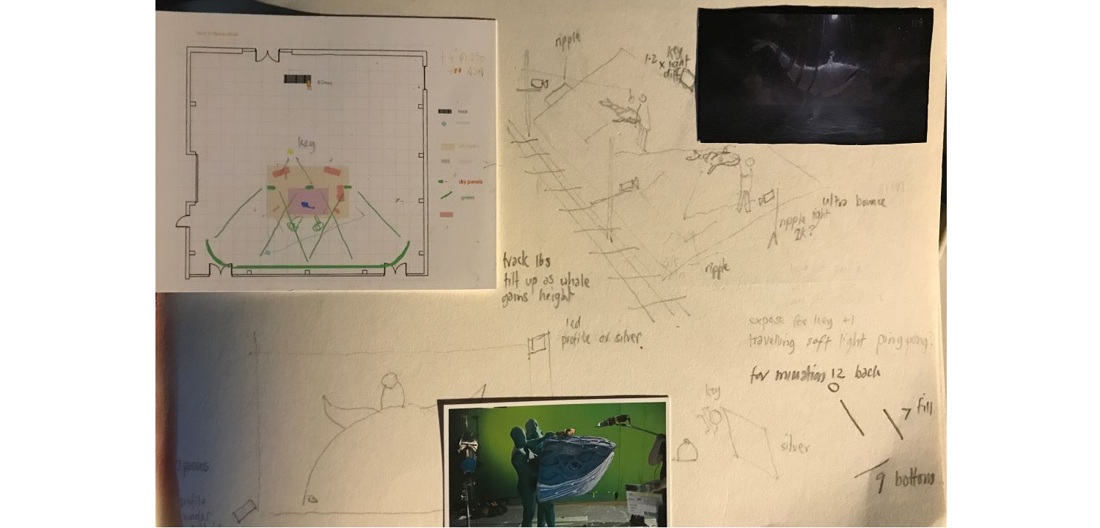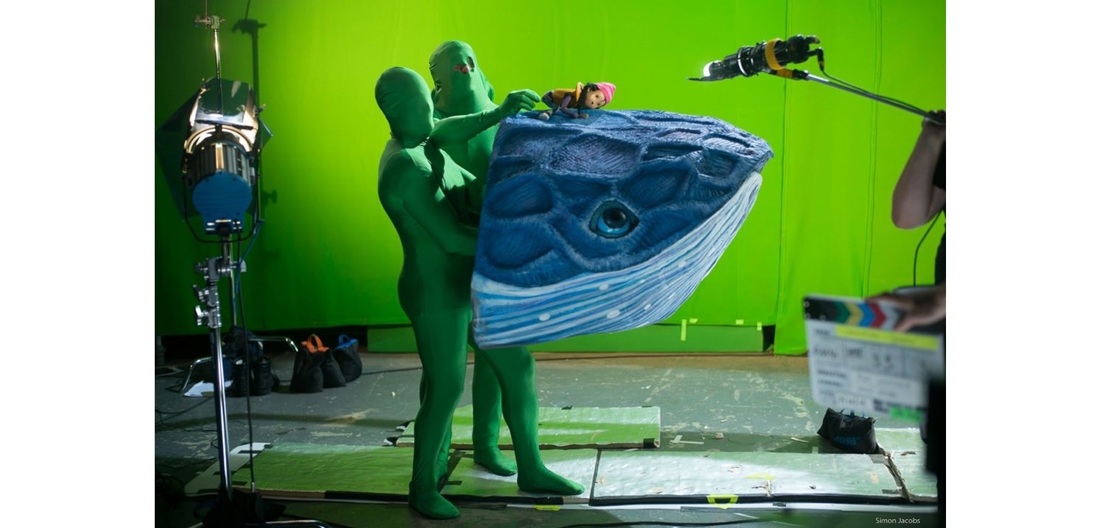 PUPPETRY & PERFORMANCE
The language of puppeteering is very theatrical in its approach. You are at the mercy of the acting, the synchronisation between the puppeteers and the restrictions of the physicality of the puppets.
You have to capture emotional tones that don't look over preformed or lifeless, whilst being aware of not having too many rods and shadows from the puppeteers. It's an orchestra of elements that need to fall into place for a take to be successful.
But when it does, it's beautiful. It's about embracing the imperfection in the performance that develops and evolves throughout the shot and becomes a uniquely stylized movement.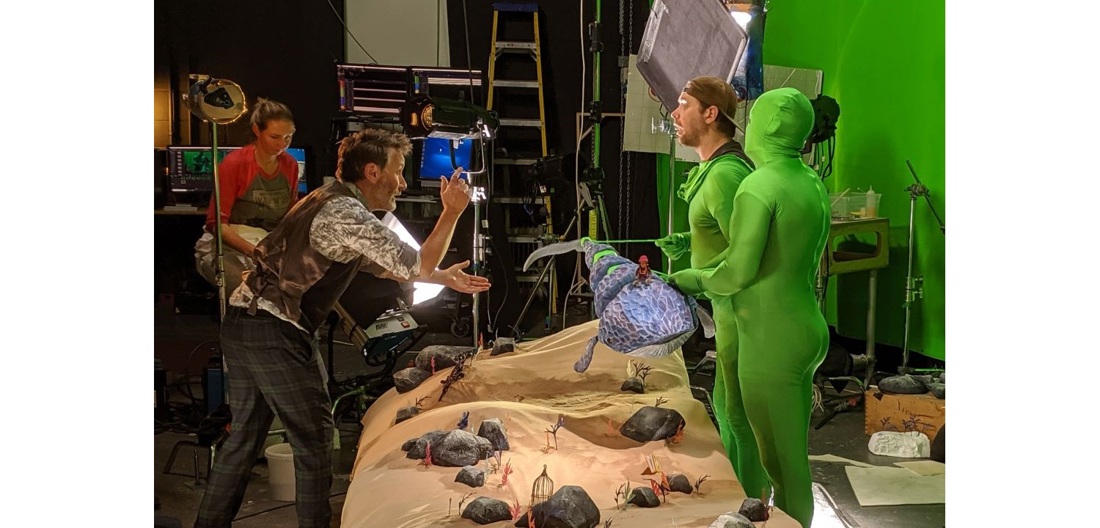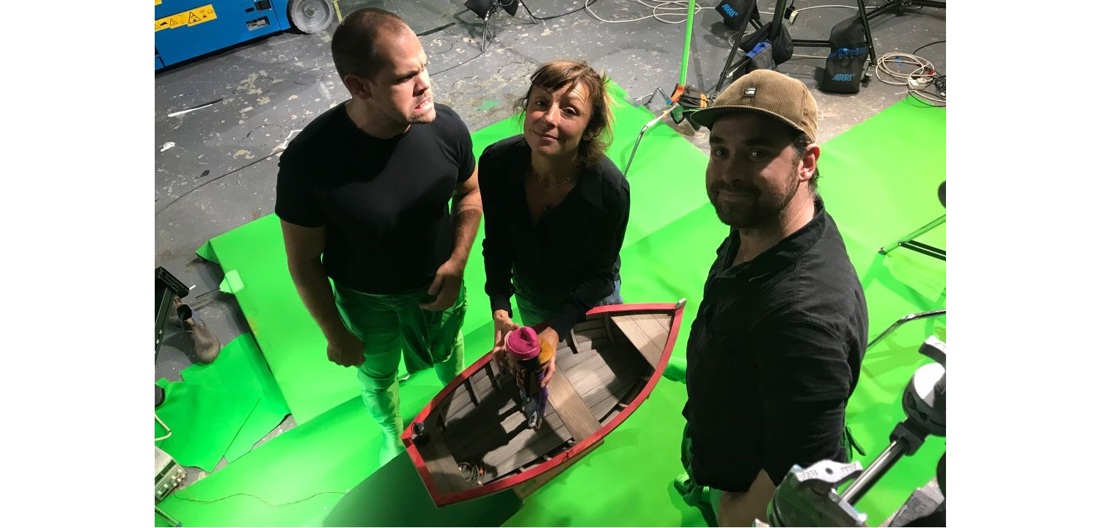 2D ANIMATION
Coming from a 2D background, I loved the fact that we included some 2D elements to highlight the mixed media approach. I thought they walked hand in hand beautifully. especially as there's such a dreamlike feel to the film. I wanted each element to reflect on something the girl remembered her dad by. My initial idea was that the 2D fish could have been drawings she made with her dad that came to life. I love the way Henrique Baron animated all the 2D elements, enriched with brush marks and lines enhancing the hand drawn style to the characters.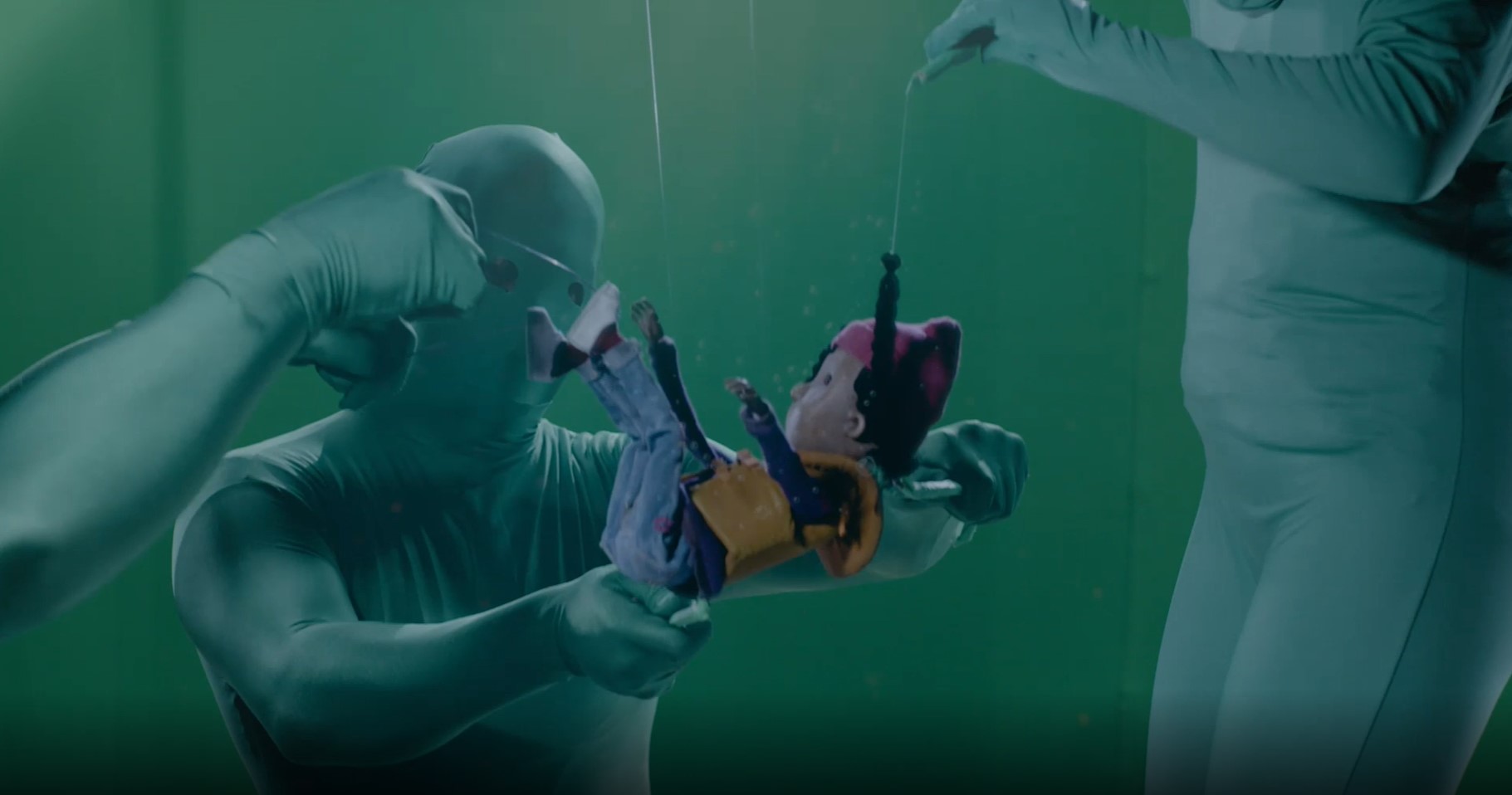 EDITING AND COMPING
After we had shot the puppeteering and background elements, the sea and some stop motion effects, we took the footage into the Edit Suite where we carefully selected the best takes.
This was one of my many favourite moments on the project, seeing all the clips coming together on a big screen and having long conversations with the brilliant Editor Dan Williamson about the takes, the performances and this wonderful mixed media technique.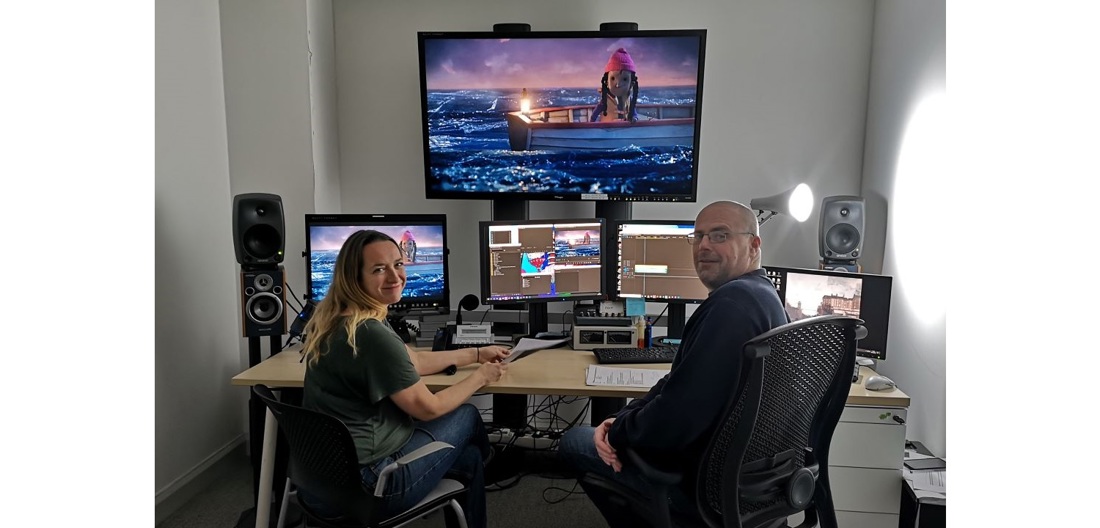 Once we had the right takes we moved into comping it all together. This was done in after effects and Nuke.
I'm so ever grateful with the team behind this demanding task, led by the ever talented Bram Ttwheam, and the rest of the comping team: Chuen Tang, Andre Brandt, Vlad Iliescu, Jordanne Richards, Mark Pinheiro, Chris Hawks, Jake Short and Doris Rastinger.
It was a challenging job marrying all the green screened plates with the different elements of painted backgrounds and 2D elements, creating a unique style that up until then had only existed in my head. But I think that's sometimes the beauty of projects like this – you are creating something very unique and every emotive step adds a layer that is part of the final visual tapestry.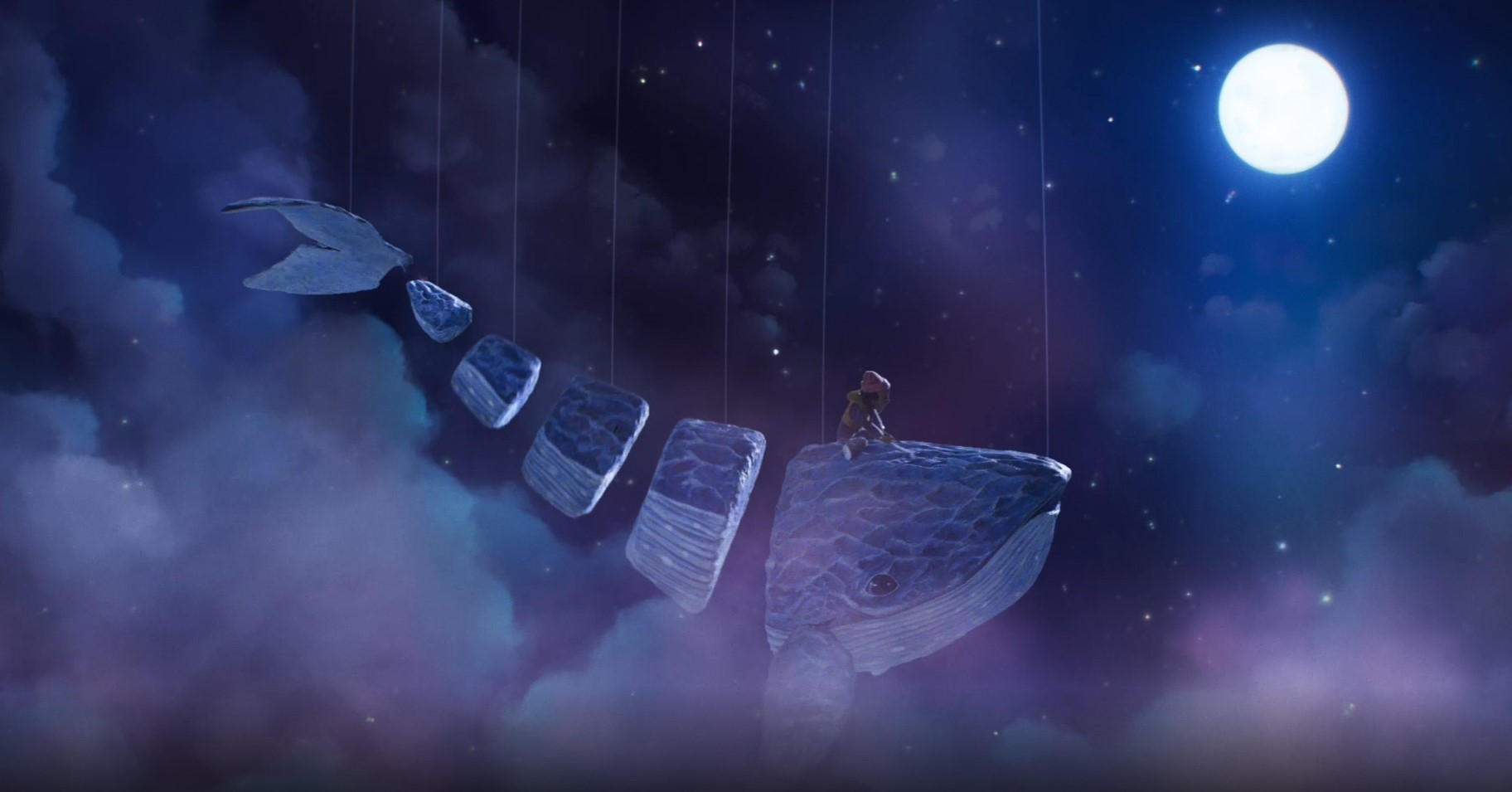 Watch the making of 'Daddy' here: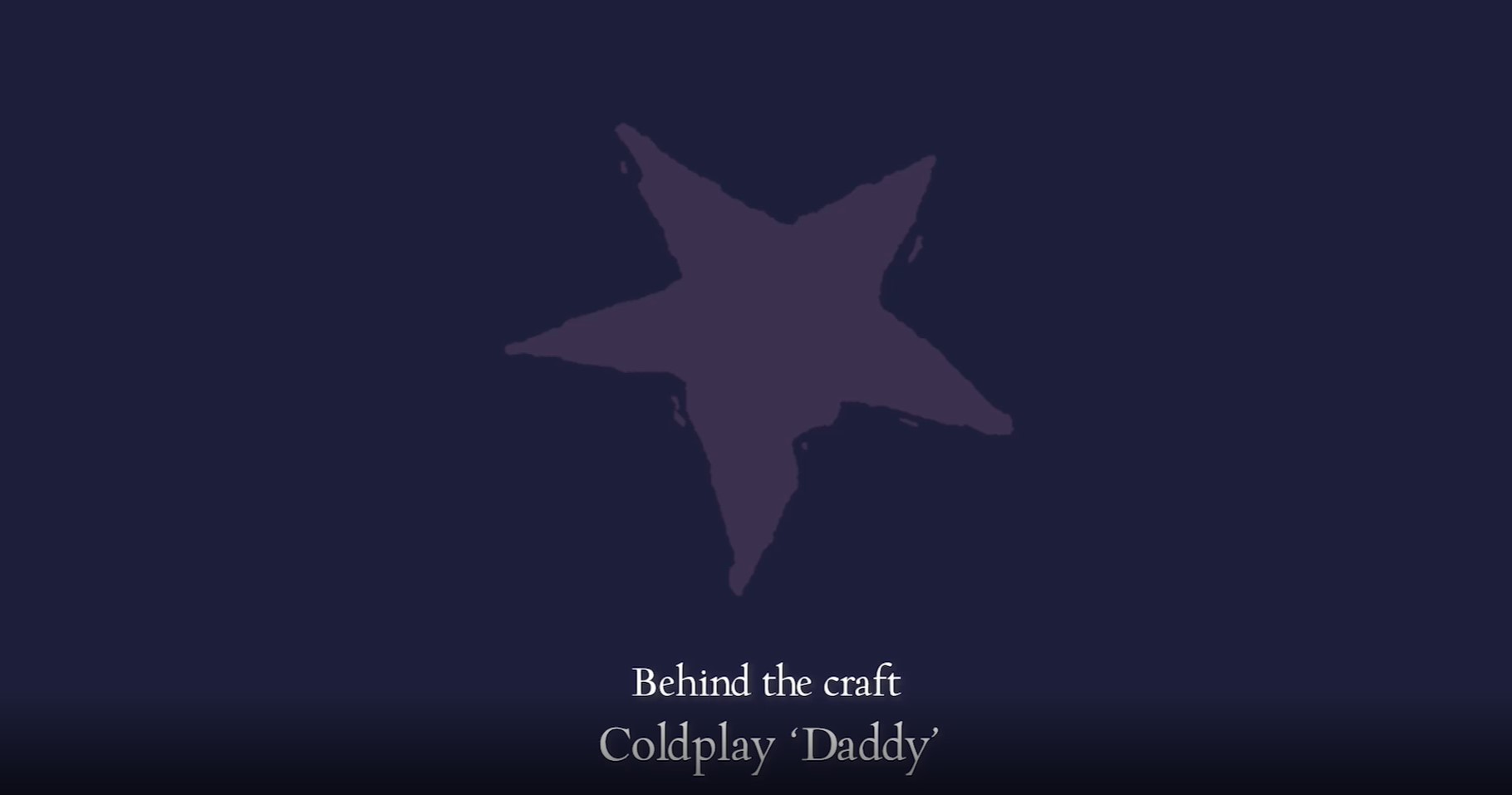 CREDITS
Director
Åsa Lucander
Producer
Rob Franklin
Production Manager
Tamsin Clay Bee
Production Assistant
Annie Wire
Storyboard Artist
Henry St Leger
Production Design
Åsa Lucander
Marc Moynihan
Set Design
Helen Javes
Set Dressers
Rachel Bennett & Sophie Marsh
Carpenter
Thomas Sewell
Puppets
Brunskill & Grimes
DOP
Simon Jacobs
First AD
Lisa Butler
Gaffer
Nat Sale
Electrician
Damien Gray
Camera Assistant
Adam Cook
Puppeteers
Andy Brunskill
Jimmy Grimes
Katie Williams
Effects Animator
Timon Dowdeswell
2D Animator
Henrique Barone
Comp Supervisor
Bram Ttwheam
Matte Painter
Marc Moynihan
Compositors
Andre Brandt, Chuen Tsang,
Vlad Iliescu, Mark Pinheiro,
Jordanne Richards, Jake Short,
Chris Hawkes, Doris Rastinger
Colourist
Bram Ttwheam
Tracklay & Soundmix
Will Davies
Editor
Dan Williamson
Runner
Christopher Box
Originally from Finland, Åsa moved to London in 2001 and joined Aardman in Bristol in 2014, where she is now based. She was first drawn to illustration and from there her passions developed towards moving images.
View Åsa's full bio
Have a similar project you'd like to discuss? Leave your details below: