Production Spotlight: Harry Banwell – Trainee Junior VFX Artist
This week, we're shining the spotlight on Trainee Junior VFX Artist, Harry Banwell, who shares his experience taking a traineeship at Aardman.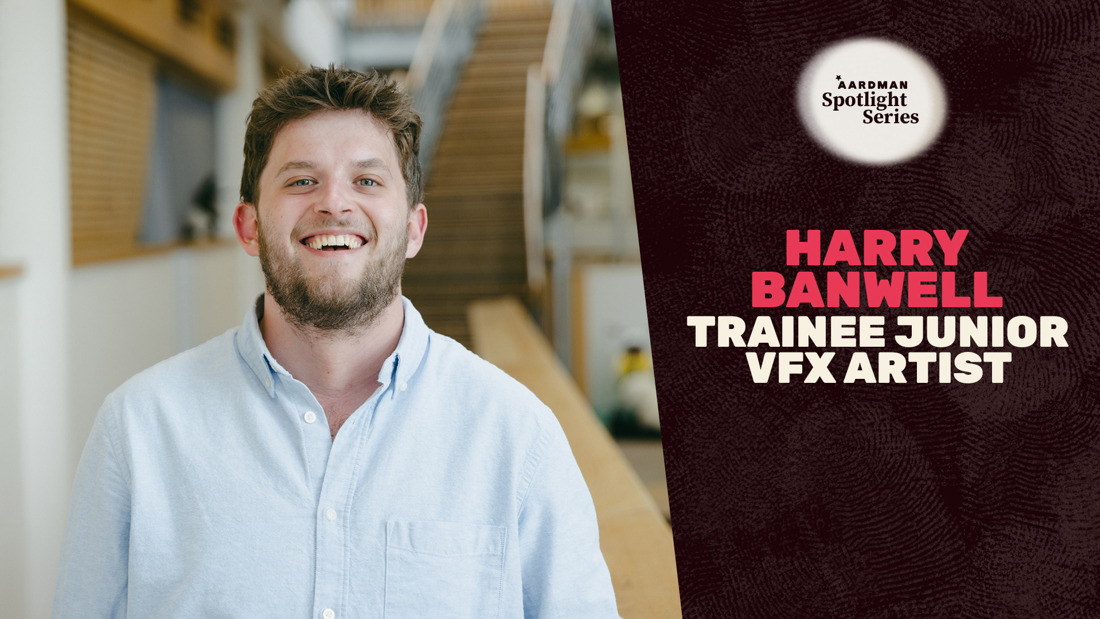 WHAT IS IT LIKE WORKING IN THE CG TEAM AT AARDMAN?
Working at Aardman has been one of the more interesting experiences in my working life. The CG team has created a really fun and collaborative atmosphere. Everyone in the team is very friendly and genuinely interested in helping you develop your skills, which is really helpful to me as a junior trainee. I feel like I am working collaboratively with friends rather than just colleagues. The people more senior than me in the team, (which is everyone), are always more than willing to take what seems like all the time in the world to make sure you understand how to do your tasks and are able to develop your skills whilst sharing their passion. I personally find the department really inspiring.
DESCRIBE YOUR TYPICAL DAY
I usually get into work at about 10am. Because I commute from Cardiff the department was super considerate in letting me come in a bit later than some of the others. The first thing I usually do is to catch up with the team and confirm my jobs for the day. Then I start compositing my shots. The interesting thing about working in VFX is that the tasks are very varied so no two days are exactly the same, which means I have lots of opportunities to engage my brain or collaborate with a colleague to find a solution to a new situation.
WHAT NEW SKILLS HAVE YOU LEARNT DURING YOUR TRAINEESHIP?
I find myself learning new things everyday at Aardman, the CG team has lots of plugins within Nuke which I am familiarising myself with, as well as the standards of working on a professional production. We work to fairly tight deadlines so the team is really great at showing me quicker and evermore efficient ways of working, as well as little tips and tricks that they have picked up along the way. Other skills that I have learnt during my traineeship would be teamwork and the collaborative nature of working on a series.
WHAT ARE YOUR CAREER AMBITIONS?
I would like to continue to gain more experience of working within Nuke. I intend to use the skills I have learnt in my traineeship to become a composition artist and pursue my career in VFX. In the short term  I would love to be able to do something similar to what I am doing now on a variety of different projects. Because I am at the very early stages of my career I want to get a better sense of the possibilities out there. Something which the team is really helping me to do.
WHAT WAS YOUR STUDY ROUTE?
I knew from a fairly early age that I wanted to do something within the animation industry, so I kind of went all in and  studied creative media production at Exeter College and then doubled down with a film degree at university, studying at Screenology in Bristol. This is where I first found my interest in post production and then started to develop my interest in VFX on short films at uni.
HOW DID YOU START OUT IN THE INDUSTRY?
Having graduated university I put together a showreel from the short films I worked on as a VFX artist. I did not really know anyone within the industry so I took the fairly common approach of emailing every production company I could find and applying for every traineeship position that was available. Understandably most of them ignored me, which seems fair, the film and TV industry is incredibly competitive. However I did get a few interviews here and there, one of them was with Aardman, I didn't get the job at the time because I wasn't really ready for the role, but I had a really great interview experience with the department's Talent Manager Celia Hunt and one of the VFX supervisors Chuen Tsang. Celia and Chuen were kind enough to give some really useful advice on how I could improve for my next application.
Celia stayed in touch and eventually when they had an opening for a traineeship she reached out and asked if that was something I was still interested in. I was really excited and so I applied and had a second interview with Celia and VFX supervisor Fernando Lechuga. Having taken the advice that was given to me I was lucky enough to be given the opportunity to have a traineeship at Aardman.
WHAT DO YOU LIKE MOST ABOUT WORKING AT AARDMAN?
It is hard to choose the best thing about working at Aardman, I can't decide if it is the amazing people that I have the opportunity to work with everyday, the really phenomenal franchises that Aardman has or the free tea and coffee. The ability to learn so much from my colleagues and see their passion for projects is a real privilege.