Art of Aardman exhibitions opens at PAFF! in Italy
Touring exhibition The Art of Aardman: Shaun the Sheep & Friends, opens today at the PAFF! International Museum of Comic Art in Pordenone, Italy. 
Created in partnership with Art Ludique, The Art of Aardman celebrates the intricacy, humour and artistry of the Aardman studio.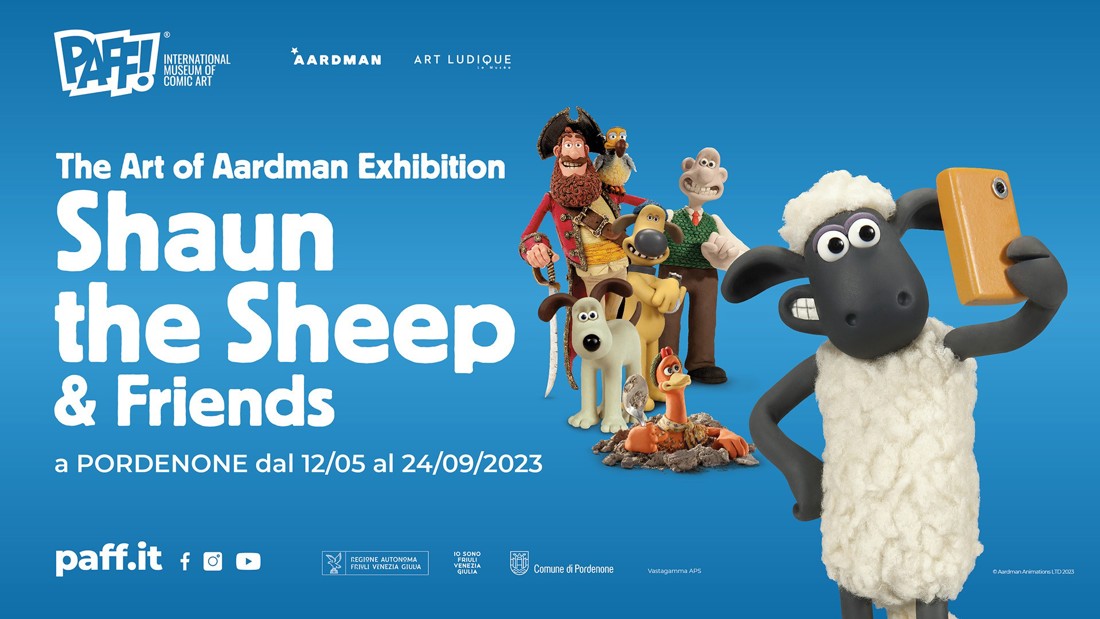 Having toured Paris, Frankfurt, Melbourne and Seoul, the exhibition includes Wallace's cracking contraptions, Gromit's vegetable patch, sets from the Shaun the Sheep Movie, the flying machine from Chicken Run, the fabulous 5-metre galleon from The Pirates! In An Adventure with Scientists!, as well as more than 400 drawings, character studies and set studies, watercolour paintings and storyboards – plus Nick Park's student sketchbook, which contains some of the first drawings of Wallace & Gromit.
"In just 5 years, PAFF! has become an international hub for comics. What makes it unique is how it uses comics as a cultural hook and draws on other disciplines to create something exceptional," says Giulio De Vita, Artistic Director at PAFF!. "The Art of Aardman: Shaun the Sheep & Friends represents the culmination of this journey, as we broaden our gaze beyond comics to animation, alongside one of the world's most famous and well-loved production companies."
In its new home, the collection has expanded to include drawings and the original puppet from the Oscar®- and BAFTA®-nominated short Robin Robin. Visitors can also see a national preview of the brand new CGI series Lloyd of the Flies and the BAFTA® nominated stop motion series The Very Small Creatures.
Aardman Co-Founder Peter Lord said: "In this exhibition, we want you to pause along the way to share some of our experience and meet some of the people whose creativity has made the journey possible. Because the drawings, designs, puppets and models you'll see here are beautiful things in their own right." He added: "Personally I love model animation. I love the fact that for me it is as instinctive as moving myself. And I go further and say that stop motion animation is really just a form of live performance. It's the most thrilling and absorbing activity. As you will see in this exhibition, it brings with it a great blessing, in a magical world of beautiful objects, surrounded by amazing art created and illuminated by the best artists."
The Art of Aardman: Shaun the Sheep & Friends exhibition is open from 12th May to 24th September 2023.